Leslie Van Houten served a 53 years prison sentence. She was convicted for the murders of Leno Labianca and his wife, Rosemary, at their home in Los Feliz in 1969.
Leslie Van Houten, the youngest member of Charles Manson's former followers, was finally released from prison on Tuesday after spending 53 years behind bars.
The California Department of Corrections and Rehabilitation confirmed she was "released to parole supervision" on July 11. Now at the age of 73, Van Houten will be placed under parole for a maximum term of three years, with a review scheduled after one year.
Van Houten's conviction stemmed from her involvement in the infamous Manson "family" and their brutal slayings of Los Angeles grocer Leno LaBianca and his wife Rosemary in 1969. Prior to her release, she had been serving her sentence at the California Institution for Women in Corona.
Rich Pfeiffer, Van Houten's attorney, expressed his relief at her release.
Leslie Van Houten has a master's degree and some computer skills
Van Houten was released and transferred to a confidential transitional facility. According to Pfeiffer, it is expected that she won't stay at the facility for an extended period of time since she is eager to reintegrate into society.
Her experience working with computers during her prison job and her master's degree make her well-prepared for the outside world. Pfeiffer is confident in her abilities, stating that she is intelligent, has strong support from family and friends, and will thrive.
"She is so ready to be out in the world," Pfeiffer said. "She has some computer skills from the job she had in prison. She has got a master's degree. She is very bright. She has got a lot of support from family and friends. She will do just fine."
Pfeiffer mentioned that Van Houten has various options for her living arrangements, with people offering her a place in their homes, along with job opportunities. He highlighted her expertise in sustained rehabilitation, as evidenced by her thesis, and emphasized her skill in assisting others in their personal rehabilitation journeys.
As a tutor in prison, Van Houten played a pivotal role in helping many individuals obtain their college degrees.
"She is very good at helping people rehabilitate themselves," Pfeiffer said. "She was a tutor in prison and helped a lot of people get their college degree."
California Governor Gavin Newsom recently announced that he would not oppose the decision of a California appellate court to grant Van Houten parole. However, Newsom had previously opposed previous parole attempts on her behalf.
"Governor Newsom reversed Ms. Van Houten's parole grant three times since taking office and defended against her challenges of those decisions in court," Erin Mellon, spokesperson for the governor's office, said. "The Governor is disappointed by the Court of Appeal's decision to release Ms. Van Houten but will not pursue further action as efforts to further appeal are unlikely to succeed."
Manson and his followers were responsible for seven murders, including actress Sharon Tate
In August 1969, over the course of two days, Manson and his followers carried out a series of murders, claiming the lives of seven individuals, among them the 26-year-old actress Sharon Tate.
These brutal killings were orchestrated by Manson as part of his deranged plan to incite a race war, which he dubbed "Helter Skelter" after the Beatles' song. The nature of the crimes was particularly gruesome: Sharon Tate, who was pregnant at the time and married to director Roman Polanski, was discovered inside her secluded residence in the canyons above Hollywood and Beverly Hills. She had been stabbed 16 times, with an "X" carved into her stomach to serve as a chilling symbol of the tragedy.
Besides Sharon Tate, several other individuals fell victim to the murderous spree. Among the victims were Abigail Folger, an heiress to a coffee fortune, Voytek Frykowski, a writer, Jay Sebring, a hairstylist, and Steven Parent, an 18-year-old delivery boy. Their lifeless bodies were discovered the following day, adding to the horror of the situation.
Less than 48 hours later, another chilling discovery unfolded in the Los Feliz district of Los Angeles. Leno and Rosemary LaBianca, owners of a grocery store, were found dead. Leno had the word "war" carved into his stomach, with an ivory-handled carving fork protruding from the wound. Disturbingly, the phrase "Death to Pigs" was scrawled on the living room wall using their own blood.
The gruesome events of the Tate-LaBianca murders would go on to symbolize an era in the history of Los Angeles, which forever left a mark on its collective memory.
Manson and his followers were convicted in 1971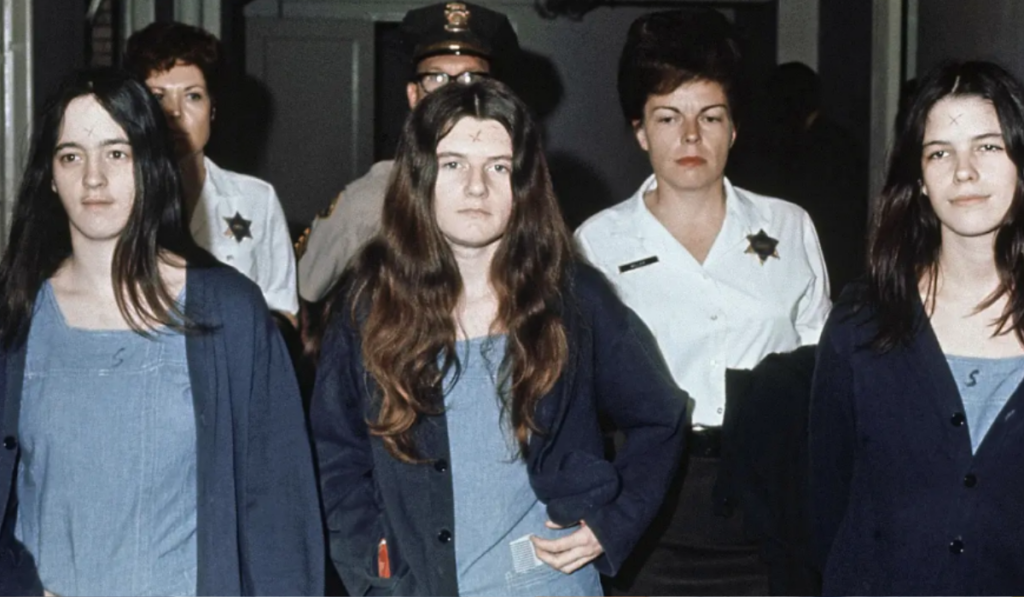 In 1971, Manson and his followers were convicted and received life sentences instead of facing execution due to a temporary ban on the death penalty in California.
Among the followers was Leslie Van Houten, who was 19 years old at the time of the LaBianca murders. She was found guilty of two counts of first-degree murder and one count of conspiracy to commit murder.
During a previous parole hearing, Van Houten revealed that her parents divorced when she was 14, which led her to associate with a group of misfits and experiment with drugs like marijuana and LSD.
At 17, Houten ran away with her boyfriend and ended up in San Francisco's Haight-Ashbury District during the "summer of love," where she became pregnant. Tragically, she was forced to have an abortion, and the fetus was buried in her backyard in a coffee can.
Van Houten later crossed paths with Manson through an acquaintance at Spahn Ranch, a hippie compound near Los Angeles.
She admitted to participating in the brutal slayings of the LaBiancas on August 9, 1969. During that horrifying night, Van Houten assisted in restraining Rosemary while Charles "Tex" Watson stabbed her. Watson urged her to take action and gave her a knife, which she took and proceeded to stab Rosemary approximately 14 times in the back.
In 2020, Van Houten was deemed suitable for parole during her 22nd hearing, only to have the decision reversed by Governor Newsom. However, according to CDCR, she appealed this decision, and on May 30, 2023, the California Second District Court of Appeal overturned it.
Despite being granted parole five times since 2016, Van Houten faced consistent opposition from the governor's office. Her attorney, Pfeiffer, expressed that her ultimate desire is to live a normal life and find employment, much like anyone else.