Jamie Foxx is currently in the process of recovering after suffering a medical complication.
The news was shared by Jamie Foxx's daughter, Corinne Foxx, who took to Instagram on April 12 to inform the public about her father's recent health situation.
"We wanted to share that my father, Jamie Foxx, experienced a medical complication yesterday," Corinne stated. "Luckily, due to quick action and great care, he is already on his way to recovery. We know how beloved he is and appreciate your prayers."
"The family asks for privacy at this time," she added.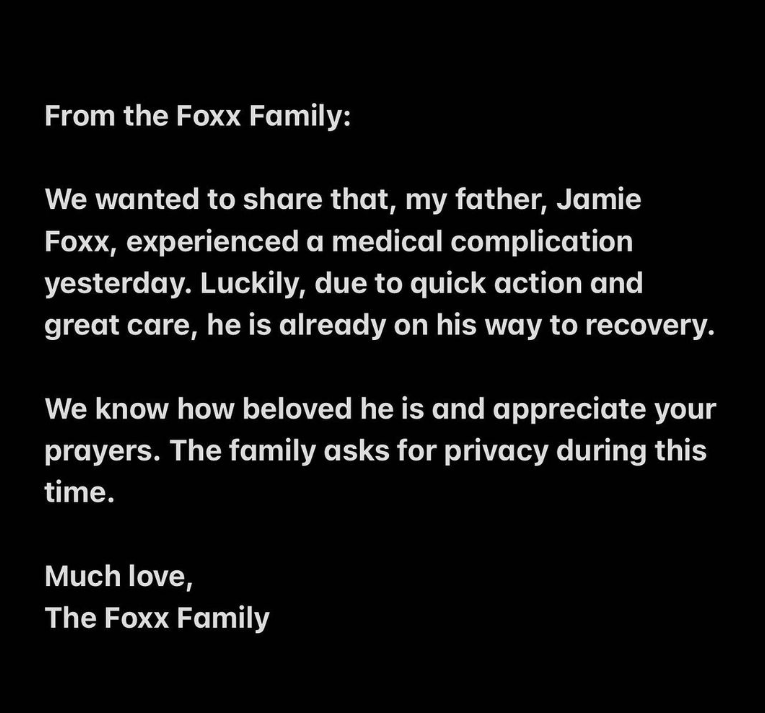 Corinne, the daughter of Jamie Foxx and his ex-partner Connie Kline, did not provide any further information about the incident. Jamie Foxx is also a father to another daughter named Annalise Bishop, whom he shares with Kristin Grannis.
Jamie Foxx was spotted on the set of his upcoming Netflix film, "Back in Action," in Atlanta just two days prior to the announcement of his medical complication.
In the movie, he stars alongside Cameron Diaz, who is making her return to the screen after her last film, "Annie," in 2014, where she and Jamie Foxx previously worked together.
The exact nature of the medical complication has not been disclosed, and further details about Jamie Foxx's condition have not been revealed. However, the announcement from his daughter has sparked concern and well-wishes from fans and followers who are sending their thoughts and prayers for his speedy recovery.