A woman in New York City is making waves by reapplying for her job upon discovering that her employer listed the same role with a higher salary.
Kimberly Nguyen, a talented UX writer at Citigroup, has blown the whistle on her employer. She uncovered a job posting on LinkedIn for the same position as hers, but with an impressive salary range between $32k-$90k more than what her current employer pays her. Thanks to the new salary transparency law, Kimberly was able to uncover this shocking disparity and brought it to light.
In a bold move, the 25-year-old reapplied for her own position, determined not to be undervalued any longer. Her passion for equality was so strong that she even took to Twitter to share her experience, writing, "My company just listed on LinkedIn a job posting for what I'm currently doing (so we're hiring another UX writer), and now thanks to salary transparency laws, I see that they intend to pay this person $32k-$90k more than they currently pay me, so I applied."
With a fiery determination and a no-nonsense attitude, Kimberly expressed frustration with her current employer's performative lack of resolution concerning her own underpayment.
"I don't want to hear one more word from them about diversity, equity, and inclusion," she declared. "I don't need to see any more of our C-suite executives recommending books for Women's History Month. These values are only meaningful when they're backed up by real action. They had the opportunity to take tangible steps, but instead, they chose to pay lip service. So, no thank you."
In an impassioned plea for fairness, Kimberly shared that she's been fighting an uphill battle for months. She's made it clear to her managers that she knows she's being underpaid, but she's been met with the same old runaround. Frustrated with the lack of action, Kimberly wrote, "I have also been arguing for months about the pay inequity. I have told my managers multiple times that I know I'm being underpaid. But they continue to drag their feet, knowing full well that they can get away with it in today's tough labor market."
She added, "I've got some audacity, too, so I posted the link in the group chat of all of us underpaid UX writers, and now we've got an emergency meeting tomorrow to talk about it."
The company's response was swift, but not entirely satisfactory. During an emergency meeting, Kimberly was informed that the job listing was meant to be an internal posting only. However, this explanation did little to alleviate her concerns. As she put it, "They're saying it was an internal posting and wasn't meant for anyone to apply to externally because public companies legally have to post jobs even if it's an internal conversion…but that doesn't solve the fact that someone internally is now still going to make $32k+ more???" The crux of the matter remained the same – someone was going to make significantly more money than she was, and that simply wasn't fair.
Sadly, the situation took a turn for the worse. Rather than addressing the issue of pay inequity, the company began discussing potential layoffs. Frustrated and disheartened, Kimberly Nguyen made the difficult decision to start looking for new opportunities. In a bittersweet announcement, she shared, "I am now actively seeking UX writing roles, preferably remote, as I no longer feel valued or protected by my employer."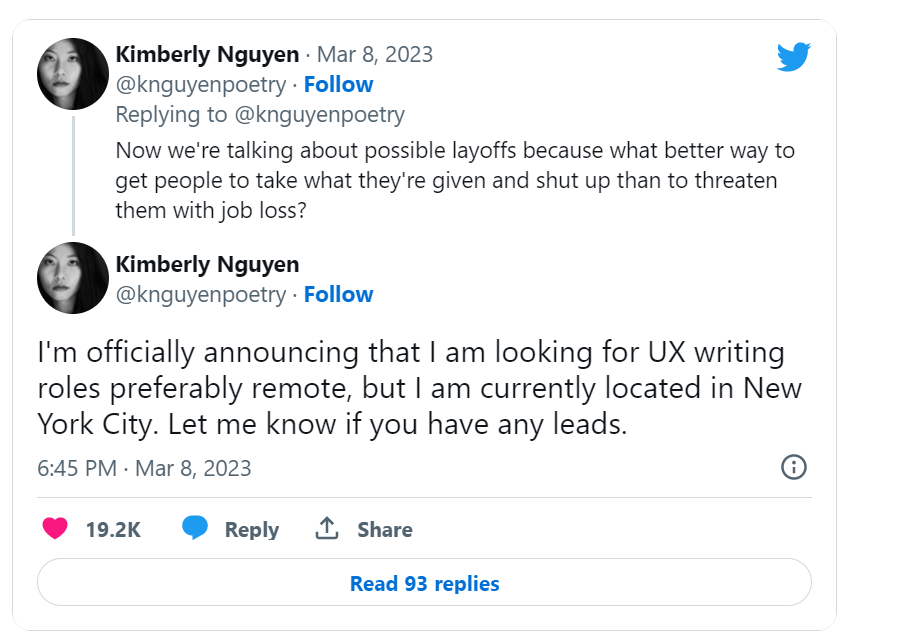 Kimberly Nguyen's tweet quickly went viral, garnering over 12.3 million views and 221,000 likes. Many Twitter users expressed their support and shared similar stories in response to her thread. One user shared, "I wish I'd thought of this. I inherited a line-managee in a re-org and learned they were paid substantially more than me. I was told they couldn't adjust mid-year but they promised to sort it at bonus time. They did not fix it at bonus time." This interaction highlights the widespread nature of pay inequality and how it affects people in different industries and positions.
Despite not expecting the reaction her tweets received, Kimberly Nguyen's story has shed light on the pervasive issue of pay inequality and sparked important conversations. While Nguyen may have initially been venting, her bravery in sharing her story has empowered others to do the same and take action toward creating a more equitable future. As more people continue to share their own experiences and speak out against pay inequity, it is hopeful that real change can be made.
"I was just venting, and I didn't expect there to be such a reaction to my venting. People complain on the internet all the time, and it doesn't go viral. I'm honestly really overwhelmed by all the attention," she wrote.