Catherine McCord of 'Weelicious' reveals her secrets for efficient weekly meal prep that won't consume your entire day. Learn from her expertise in preparing weeknight dinner in advance.
Are you tired of scrambling for last-minute dinner ideas during the busy workweek? Whether you're cooking for one or a family of four, meal prep can be a game-changer for saving time and stress in the kitchen.
And if you're looking for expert tips on simplifying your meal prep routine, look no further than Catherine McCord of Weelicious. As the reigning meal prep queen, Catherine shares her insider secrets in her new cookbook, Meal Prep Magic: Time-Saving Tips for Stress-Free Cooking set to release on April 4.
In an exclusive interview with Parade, Catherine spills the beans on making meal prep work for you without sacrificing a whole day in the kitchen. Get ready to revolutionize your weeknight dinners!
Keep reading to learn how you can simplify your meal prep routine and make weeknight dinners a breeze.
10 time-saving tips that will turn meal prep from a far-off dream into a delicious reality
Pick a List of Your Top 10 Favorite Foods
To simplify your meal prep process, start by making a list of your top 10 favorite foods. This can include vegetables, fruits, pasta, beans, lentils, chicken, or anything else that you enjoy eating. Once you have your list, make sure to always have the ingredients for these 10 meals on hand.
By sticking to the foods you love and know how to cook, you'll feel confident in the kitchen and be able to create a variety of meals by cross-pollinating your favorite ingredients. Whether you jot your list down on paper or keep it on your phone, having a go-to list of your favorite meals will make meal prep a breeze.
Maximize Your Meal Prep with the "Serve Half, Freeze Half" Rule
To maximize your meal prep efforts, follow the "serve half, freeze half" rule. If you make a dish like burritos, for example, freeze half of them for later and serve the other half for dinner. This way, you'll have a ready meal in your freezer for busy nights.
This rule can be applied to various recipes, from soups and muffins to scones and more. In Meal Prep Magic, many of the recipes are designed to be split into two portions so that you can easily freeze one and serve the other.
Utilizing this rule saves time and effort in the long run while still enjoying delicious homemade meals.
Double Up
One of the easiest ways to streamline your meal prep is to double up on your recipes. Instead of making just one serving, double the ingredients to make two. This method is a perfect complement to the "serve half, freeze half" rule.
Doubling up on recipes can be applied to any dish, from grilled pork tenderloin to soups and stews. Marinating and cooking two portions of a dish at once will cut down on time and effort since you only have to cook once. Additionally, it saves time on chopping and preparing since you're already making a larger batch.
As McCord suggests, doubling up on your recipes is an easy way to make meal prep more efficient and less time-consuming.
Elevate Your Meals with Two Versatile Marinades
Marinades are a simple and easy way to add flavor to your meals, and you can take them a step further by creating two go-to marinades that you can use in different ways. This tip from McCord is a quick and easy way to streamline your meal prep process.
By making extra marinade and keeping it in the fridge, you can use it to marinate different types of meat or vegetables. For example, if you make a homemade teriyaki sauce for salmon, you can also use it to marinate chicken or tofu.
Utilize Vinaigrettes as Marinades
Dressings are versatile and can be used in various ways beyond just salads.
"People often overlook the fact that vinaigrettes can double as marinades," McCord explains. "They're not just for salads; they can also be used for proteins or grains."
Using a dressing as a marinade is a simple way to add flavor to your meals without adding extra steps to your meal prep. You can marinate chicken, beef, tofu, or vegetables with your favorite vinaigrette for a quick, easy meal that packs a flavorful punch.
Do the Peeling and Chopping on Sundays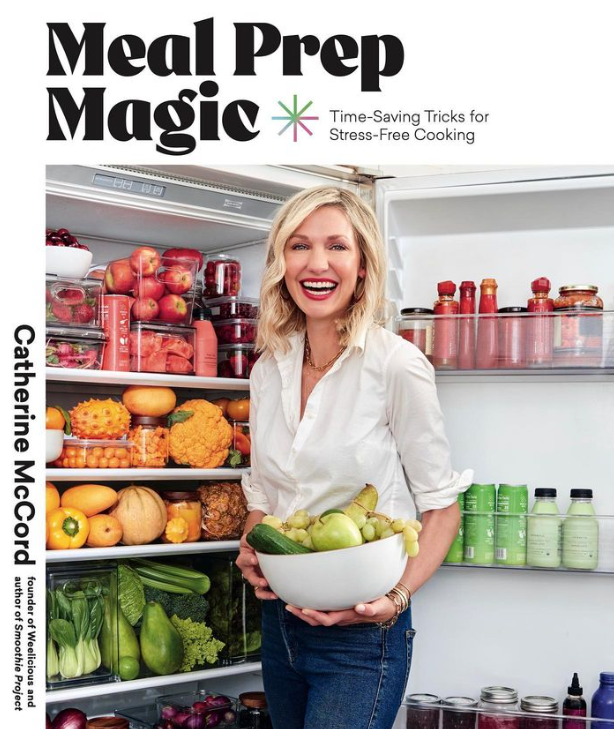 Meal prep doesn't have to be a time-consuming task. According to McCord, the key to simplifying the process is to view your ingredients as batches that can be mixed and matched.
McCord designates Sundays as her meal prep day and recommends peeling and chopping everything on that day. This way, later in the week, you can easily select the ingredients you need for each meal.
"I always meal batch to save time on Sundays," McCord explains. "I'll cook rice, pasta, roasted or air-fried vegetables, and chicken. These simple ingredients can be mixed and matched or used in a variety of different recipes."
By preparing these basic ingredients in advance, you can easily create different meals throughout the week without starting from scratch every time. Batching saves you time and effort while ensuring you always have healthy, pre-prepared ingredients.
Involve the kids
Meal prepping is not just for adults. In fact, involving the whole family can be a great way to bond and teach children about nutrition and cooking.
"I get my kids involved in meal prep, too," says McCord. "Sometimes I ask them to peel 10 carrots or assist with assembling freezer stash breakfast burritos."
Meal prep can become an assembly line by assigning different tasks to everyone. For instance, for the breakfast burritos, McCord lays out tortillas and different bowls of ingredients such as beans, hashbrowns, and eggs and gets her kids to help with assembly. The kids can then personalize their burritos and write their names on them before freezing.
This not only saves time and reduces confusion about whose leftovers are whose, but it also encourages kids to become more involved in the kitchen and learn valuable skills.
Preserve Cookie Dough by Freezing
Here's a little-known tip: You don't have to bake or eat all of your cookie dough at once.
"Whoever said you have to make four dozen cookies at once was cruel because it's not fair to have them lying around," McCord explains. "But if you do bake them, freeze half the dough. What I like to do is make raw cookie dough, bake half of it, and shape the rest into cylinders using parchment paper. Then, I wrap them up in parchment paper so they're like slice-and-bake cookies."
Store them in the freezer until you're ready to bake more, and the batter will be ready to go.
Prepare Smoothies in Advance to Save Time During Busy Mornings
McCord recommends making ready-to-go smoothie jars by filling them with hemp, chia seeds, protein powders, and other desired ingredients. Later, you can add frozen fruit, vegetables, and liquid to the blender, making for a quick and easy breakfast.
Alternatively, you can use Stasher bags to store frozen ingredients like strawberries, cauliflower, and seeds or nut butters. Just add milk and blend for a quick smoothie.
Convert Pasta Leftovers into Pasta Chips
According to McCord, pasta can be transformed from a simple Italian dish into a crunchy snack.
"Leftover boiled pasta can be refrigerated and air fried to make pasta chips," she says. "You can add salt, olive oil, or vinegar to make salt and vinegar pasta chips."
This results in a seasoned and crispy chip in the air fryer after a minute or two. Chickpeas can also be air-fried in 30 seconds, providing a healthier, more textured snack option.
"Having healthier snacks that are still crunchy, smooth, or textured is what makes snack foods," McCord explains. "You know that they're not just empty calories."