Want to feel like you're living your best life this summer? We're here to help!
Bring some flair to your patio or balcony with a reversible outdoor rug. It's sure to catch some attention while staying easy to clean. Grab this one that comes in 4 patterns and five sizes starting at $39.99
Verified review: I moved into a place where the patio in my room had disgusting wood chipping all over the place. I needed something to cover it and didn't want a rug that would get soaked in the rain so I bought 2 5×8 and it's perfect since they are plastic I was able to cut it to make it fit perfect it made a huge difference for me – Yahaira
2. Nothing says cozy like a fire! While a fire pit isn't possible for everyone, this tabletop fire pit comes in five different styles and makes those vibes much more accessible. Get it for $36.99
Verified review: very cute and perfect for our small patio area. We have even used it to toast marshmallows! – Janepa
3. Need a spot for your potted plants that also looks super stylish? Check out this plant stand. It comes with three tiers and tons of finish and design options, and it's great for either a smaller patio or a full backyard.
Verified review: I knew my wife was going to LOVE this setup. So, I ordered it ASAP and it got here ASAP! I surprised my wife with this unit, Grow lights and all. Once she got her first glance she could not stop looking at her flowers on the unit, and was constantly taking care of them. It was very nice to see how much she loved this product on first sight. She was like a kid playing with a new toy on Christmas! If you purchase this product as well, I promise, you won't regret it. Enjoy! – Mark
4. If you're looking to bring some light to your summer nights, then grab these outdoor string lights. They're waterproof and come with shatterproof bulbs, so you won't have to worry about them when the wind picks up. Grab some for $25.99
Verified review: It is tough to find good, affordable LED lights for outside use. Assuming these hold up, they check all the boxes. Seem to be good quality, bright and not the jarring "cool white" color that plagues so many LED sets. Each bulb holder has a loop so that the included cable ties can be used to secure them. Very happy with the look. Now just hope they hold up. – L. Eschorn
5. Seating is a must for any outdoor space. If you're looking for something cute and affordable that doesn't take up too much space, look no further than this 3 piece rocking bistro set. You can get it just in time for summer for $139
Verified review: So this wasn't suppose to come in until a a week after it was ordered, but it came early. It was fairly simple to put together and maybe took 15 minutes to put both chairs and the table together. The pillows needed a little fluffing after being in a box, but all in all this is a great buy especially for the price. It's comfortable and looks to be very sturdy. We're so excited to use it this summer! – Monica
6. Staying out of the sun is a must during the summer, and sometimes SPF just doesn't cut it. So grab one of these umbrellas that comes with its own base so you don't have to purchase one separately. It's only $86.99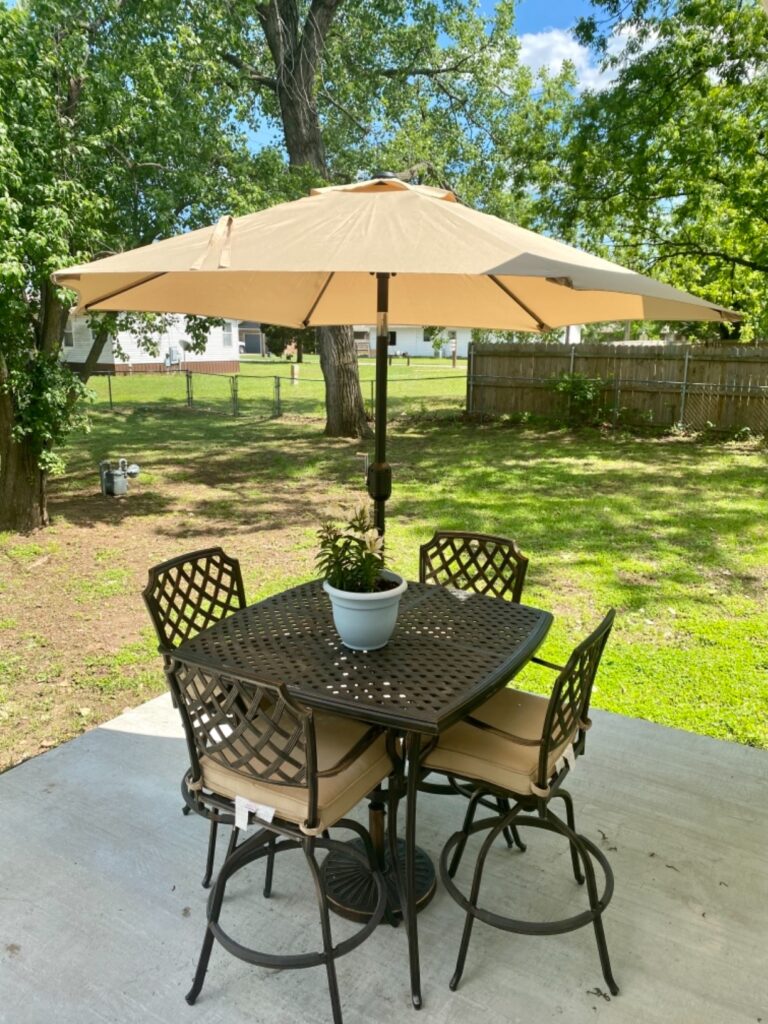 Verified review: I was surprised on how study the umbrella was. It was a great price for an item we will use for many years. – Neva
7. Turn a cozy night spent outside into a movie night! This projector kit is beginner friendly and comes with the projector and a 100 in screen. It's bluetooth capable and designed to be used outdoors. Right now it's $189.99 but don't forget to check that coupon box for $30 off!
Verified review: We are so excited to have a projector to use for our events. This model is light weight and user friendly. Makes it easier for multiple staff to feel confident in using it for their activity. A plus for us that it comes with a screen and has phone connection capabilities. – Jacqueline
8. And if you're just wanting a touch of whimsy for your space, consider these firefly lights to bring a little fantasy to your yard. They're solar powered and waterproof. You can get a pack for just $33.99
Verified review:
Very easy to install.
Pros:
Elegant
Easy to install
Easy to assemble
Big bulbs
Very Bright – Andres