Tattoos are becoming more commonplace. Many employers have eased up on their non-tattoo policies to accommodate the many people that have permanent body art. But if you're like Melissa Sloan and have 800 tattoos, you may have some issues.
Sloan's Story
Sloan is a 46-year-old mother of two living in Wales in the United Kingdom. She previously had a job cleaning toilets but has been unemployed ever since. She hasn't even been able to find similar work.
"I can't get a job. I applied for a job cleaning toilets where I live, and they won't have me because of my tattoos. People have said I have never had a job in my life, but I have had one once and it didn't last long. If someone offered me a job tomorrow, I would go and work- I would take that offer," Sloan said.
Addiction to Tattoos
Sloan got her first tattoo when she was 20 and quickly became hooked. She describes herself as addicted. She says she still gets up to three tattoos a week.
"If I make it to 70 I'll still be getting them. Every bit of skin will be covered even if I'm turning blue. My face is already turning blue- I look like a Smurf," she said.
Sloan especially enjoys getting tattoos on her face- so much so that she has no real estate left. She's been inked over three times creating a multi-layer design.
"I've got three layers on my face. I probably have the most tattoos in the world, and if not then at the rate I'm going on, I probably will have them in the end. I keep going over and over them," she announced proudly.
Guinness Book Dreams
Employers aren't the only ones to make snap judgments about Sloan based on her tattoos. She's also banned from her local bar and her children's school.
But these incidents don't mean she's stopping any time soon. She's determined to get into the Guinness Book of World Records for her ink.
"I'd like to be a record holder, it's just something different. I'm trying to get into the Guinness Book of Records," she says.
Melissa may have her dreams, but she still has a long way to go. She is competing with Lucky Diamon Rich, a street artist and festival performer who has spent over 1000 hours in the tattoo chair.
Although it's unclear how many tattoos Rich has, he is covered from head to toe with 200% coverage. He is tattooed on his eyelids, on the skin between his toes, on his upper ears, and even on his gums.
Are Tattoos Addictive?
Sloan is not the only person who claims to be addicted to tattoos. But is tattoo addiction real? Experts say… maybe.
Tattoos can be psychologically addictive. In other words, people may love the idea of getting tattoos. Their mentality causes them to get a new tattoo before the last one is healed.
Getting tattooed can also cause an adrenaline rush similar to the experience of riding a roller coaster. The rush can be addictive. It can also cause you to feel less pain while you are being tattooed.
The pain of getting a tattoo also causes your body to release 'feel-good' chemicals called endorphins. Drugs like opioids also promote an endorphin release. It's part of what makes them so addictive.
Do Tattoos Have a Social Stigma?
Tattoos were once considered taboo due to their association with criminal activity and rebelliousness. In the 19th and early 20th centuries, they were used to mark convicts and criminals. They were also a common sign of defiance and rebellion popular with sailors, soldiers, and members of the lower class.
Today, tattoos are more accepted by society simply because so many people have them. They are commonly worn by celebrities, high-level professionals, and social media influencers. 2023 statistics show more than 30% of the population have at least one tattoo.
There are fewer stigmas surrounding tattoos because they have gotten so commonplace. Employers that refuse to hire people with tattoos would be limiting their pool and possibly turning away qualified workers. Individuals that discriminate against them would be expressing unfair treatment to a significant percentage of the population.
Although tattoos are more widely accepted, there are still some groups that have stigmas against them. They tend to include conservative communities and some religious groups. Some high-level employers would prefer to hire people without visible tattoos.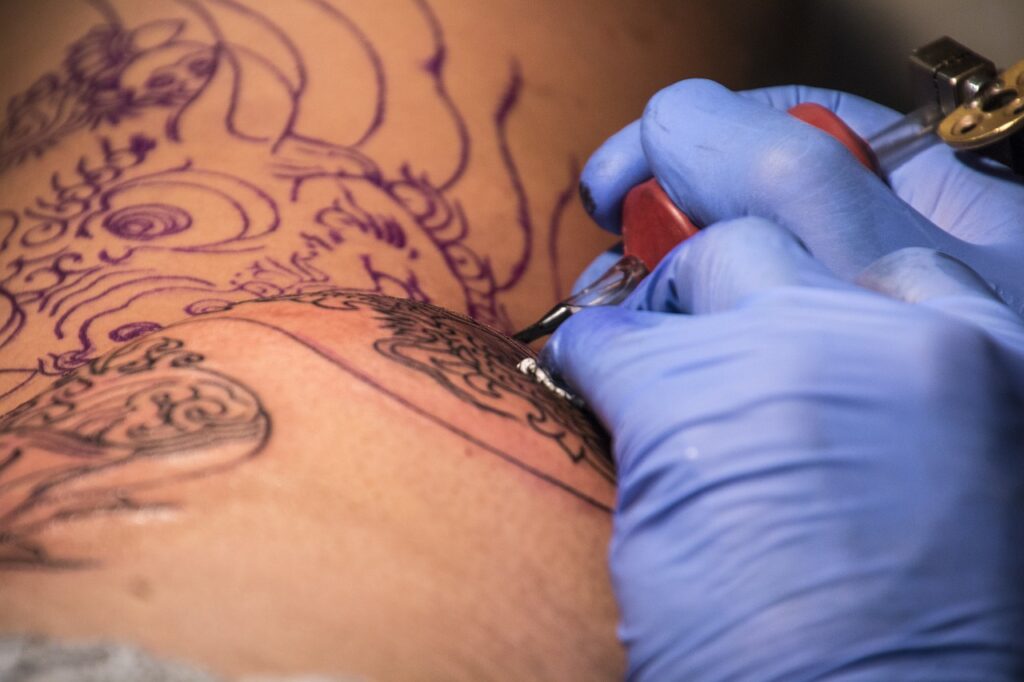 While tattoos are becoming the norm, it will take a while for people as heavily tattooed as Melissa Sloan to be accepted in society. Perhaps the publicity she's been getting will cause an employer to take pity on her and hire her. Or maybe she should take a hint from her idol Diamond Rich and launch a street performer career.